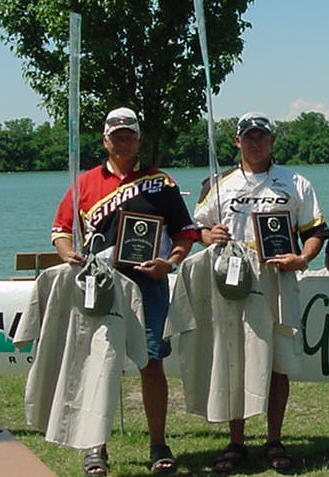 HERB BOUYACK AND ROB THIVENER, FIRST PLACE FINISHERS
ROB THIVENER AND HERB BOUYACK PULL A SECOND TOUR OF DUTY AT THE GOLD SERIES
JULY 13, 2003 WAS THE THIRD STOP ON THE LAKE ERIE GOLD SERIES TEAM TOURNAMENT TRAIL. IT WAS ANOTHER ABSOLUTY BEAUTIFUL DAY FOR A GOLD SERIES TOURNAMENT, BUT LIGHTNING DID STRIKE, FOR A SECOND TIME TODAY WHEN THE TEAM OF ROB THIVENER AND HERB BOUYACK WEIGHED THEIR FISH IN AND TOOK THEIR SECOND VICTORY OF THE 2003 SEASON.
ROB AND HERB'S FIVE FISH LIMIT OF 18.80 LBS. JUST EDGED OUT THEIR NEMESIS, BRYAN COATES AND DICK PARKER. BRYAN AND DICK'S FIVE FISH LIMIT WEIGHED 18.44 LBS. THESE TWO TEAMS HAVE BEEN VERY CLOSE ALL YEAR SO FAR IN TOTAL POINTS AND WILL AGAIN GO AT IT IN SEPTEMBER TO BATTLE IT OUT FOR THE LAKE ERIE GOLD SERIES 2003 POINT CHAMPIONSHIP.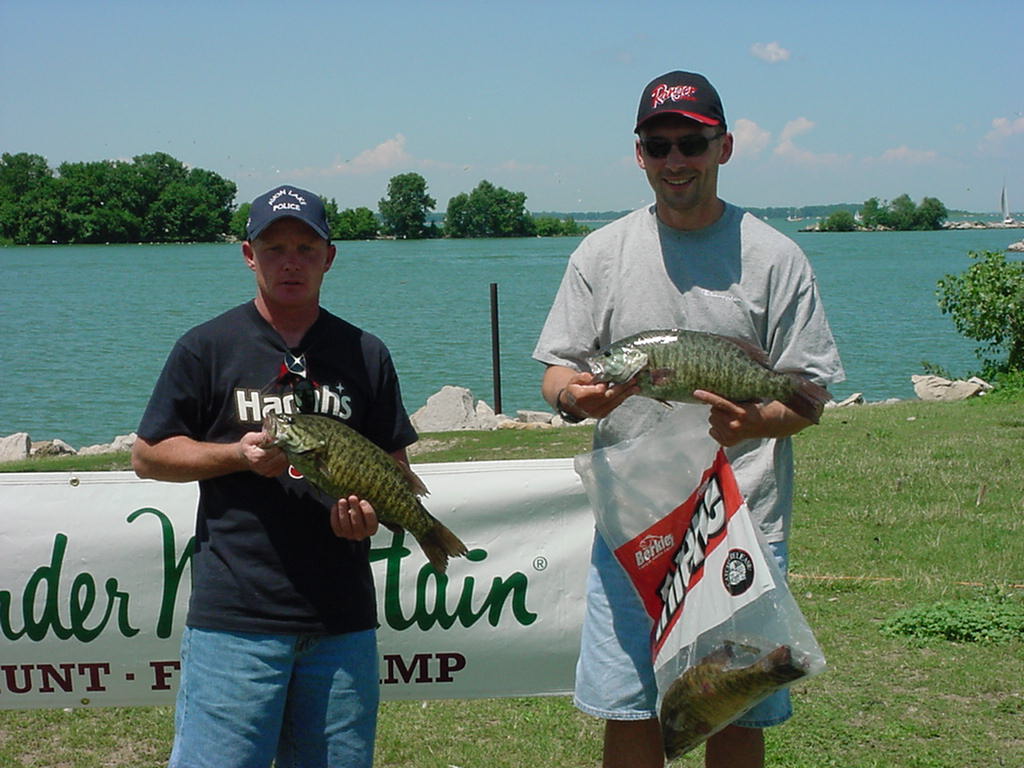 SECOND PLACE TEAM OF BRIAN COATES AND DICK PARKER
THE THIRD PLACE TEAM WAS SHANE WITTE, AND TIM ZAM, THEY HAD A FIVE FISH LIMIT THAT WEIGHED 17.00 LBS. THIS TEAM IS ALSO THIRD IN POINTS AND IS REALLY PUTTING THE PRESSURE ON THIVENER, BOUYACK, AND COATES AND PARKER. THE LAST TOURNAMENT OF THE REGULAR SEASON IN SEPTEMBER WILL BE A REAL SHOOT OUT.
THERE WAS A TIE FOR FOURTH PLACE, THE TEAMS OF DAVID AND PAUL SCALES, AND LARRY MASON AND MIKE FALL, A NEW TEAM WITH THE GOLD SERIES. BOTH TEAMS WEIGHED IN FIVE FISH LIMITS THAT WEIGHED 16.55LBS. RESPECTIVELY. SIXTH PLACE WENT TO DON ROBERTS AND BARRY SNOOK 16.43 LBS., SEVENTH GEORGE AND MELODY BOSTON 16.39 LBS., EIGHTH PHIL BOGART AND DAN CHAFFIN 16.15 LBS., NINTH JOHN MARCHBANKS AND MIKE BURTON 16.00 LBS. AND ROUNDING OUT THE TOP TEN WAS ANOTHER NEW TEAM IN THE GOLD SERIES ROY BRADFORD AND SAM MELISH 15.71 LBS.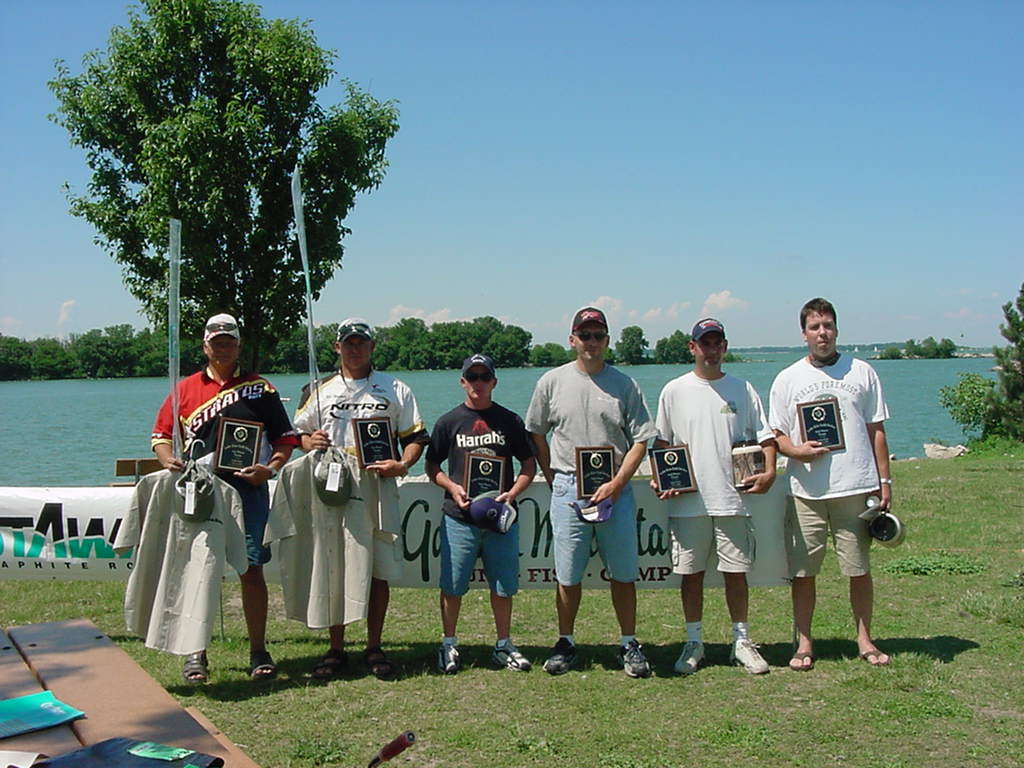 IST, 2ND, AND 3RD PLACE TEAMS AT THE JULY 13, 2003 GOLD SERIES TOURNAMENT
BIG BASS FOR THE TOURNAMENT WENT TO THE TEAM OF SAAS AND SAAS, THERE BIG BASS WEIGHED IN AT 4.75LBS. THIS SMALLMOUTH JUST MISSED BEING THE LARGEST BASS WEIGHED IN AT A GOLD SERIES TOURNAMENT. THIS BASS DID EARN THEM A CHECK FOR $310.00 DOLLARS A PLAQUE, A NEW CASTAWAY GRAPHITE ROD, AND A GANDER MOUNTAIN PRO SHIRT.
THE REST OF THE PAYOUTS WENT AS FOLLOWS, 1ST $720.00, 1ST PLACE PLAQUES, 2 CASTAWAY RODS, AND TWO GANDER MOUNTAIN PRO SHIRTS. 2ND $310.00, 2ND PLACE PLAQUES, AND GANDER MOUNTAIN HATS. 3RD $215.00 DOLLARS, 3RD PLACE PLAQUES, AND GANDER MOUNTAIN COFFEE MUGS. AND THE TIE FOR FOURTH PLACE WAS BOTH TEAMS RECEIVING A CHECK FOR $75.00 DOLLARS. 6TH THROUGH 9TH PLACES TEAMS RECEIVED PHOENIX LURES TACKLE BAGS.
BIG BASS AT THE LAKE ERIE GOLD SERIES TOURNAMENT
THE NEXT STOP ON THE LAKE ERIE GOLD SERIES CALENDAR IS THE FOURTH AND FINAL REGULAR SEASON EVENT OF THE 2003 SEASON ON SEPTEMBER 21ST. ALL THE GOLD SERIES TEAMS ARE FIGHTING FOR POSITION TO BE IN THE TOP 50% IN POINTS SO THEY CAN BE INVITED TO THE BIG CASH EVENT, THE LAKE ERIE GOLD SERIES 2003 CHAMPIONSHIP HELD ON OCTOBER 12TH, 2003. THE TEAMS THAT QUALIFY WILL BE FISHING FOR A TOTAL PURSE OF 4,500 TO 5,500 DOLLARS IN CASH AND MERCHANDISE.
ALL THE TEAMS WILL BE FIGHTING TO GET A CHANCE TO FISH THIS DOUBLE THE ENTRY FEE EVENT, THAT INCLUDES THE HELD 25% FUNDS HELD THROUGH THE REGULAR SEASON.
YOUNG MR. SCALES IS ASKED ABOUT CASHING HIS 2ND CHECK THIS YEAR AT THE GOLD SERIES
BELOW IS THE TOURNAMENT SHEET WITH HOW ALL THE LAKE ERIE GOLD SERIES TEAMS FINISHED.
THE GOLD SERIES AND ALL THE ANGLERS WOULD LIKE TO GIVE A SPECIAL THANKS TO JOHN AND JACKIE AT THE NORTH ANGLERS INN, THEY PROVIDED ALL THE PLAQUES THAT WERE GIVEN OUT AT THE JULY 13, 2003 TOURNAMENT. JOHN WAS PRESENT TO GIVE OUT ALL THE PLAQUES AT THE AWARDS PORTION OF THE WEIGH IN. THANK YOU AGAIN !!!