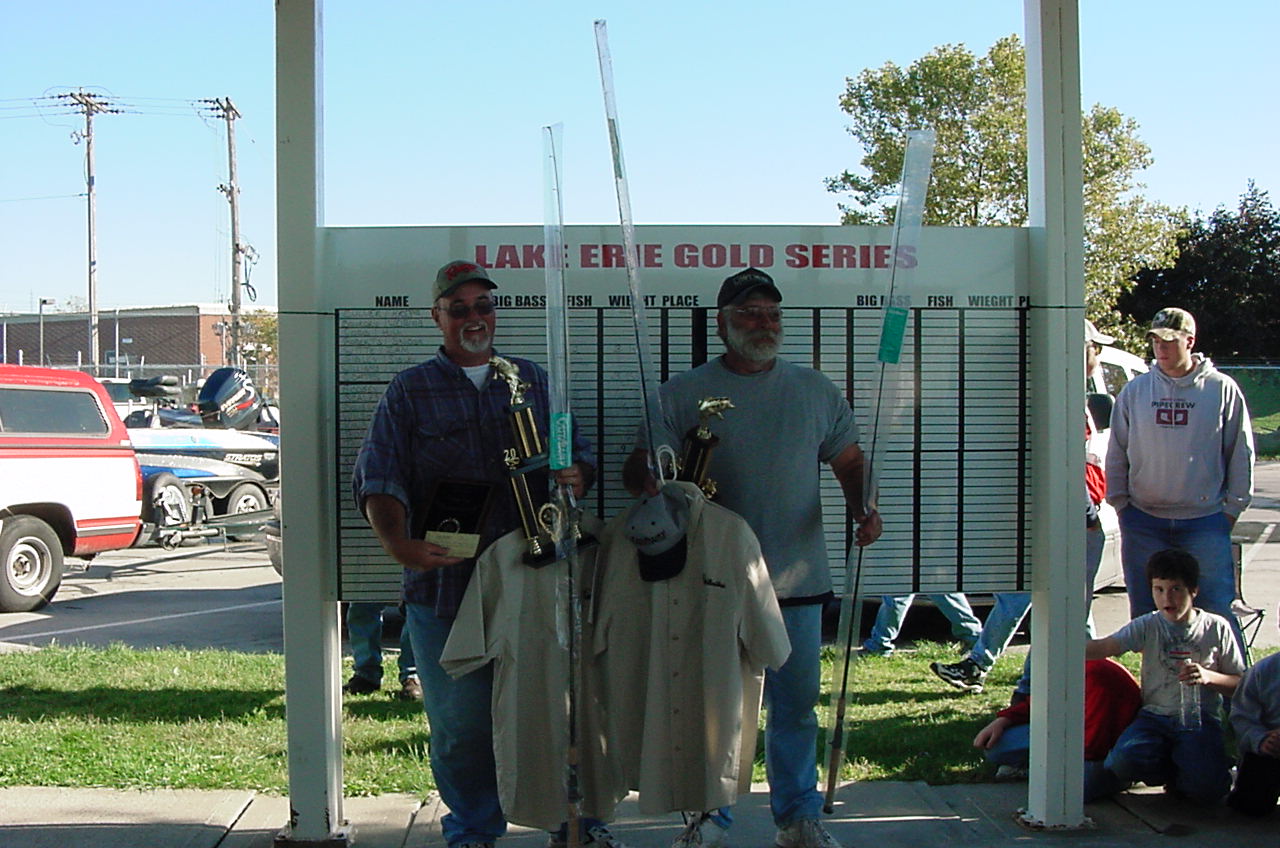 JOHN MARCHBANKS AND JEFF ROYTEK, 2003 TOURNAMENT CHAMPIONS
MARCHBANKS AND ROYTEK PASS THE TOUGEST TEST OF THE LAKE ERIE GOLD SERIES SEASON
LAKE ERIE, SANDUSKY OHIO, OCTOBER 12, 2003, THIS WAS THE DATE AND SITE OF THE 2003 LAKE ERIE GOLD SERIES TEAM CLASSIC CHAMPIONSHIP. IT WAS A BRUTAL DAY FOR WEATHER CONDITIONS, THE TOP FIFTY PERCENT POINT LEADERS WERE GREETED WITH 15-30 MPH. WINDS OUT OF THE NORTH, NORTHEAST. IT WAS A ASSAULT ON THE ANGLERS THAT ATTEMPTED TO CONQUERE LAKE ERIE ON THIS DAY TO BECOME THE GOLD SERIES 2003 CHAMPIONS.
JOHN MARCHBANKS AND JEFF ROYTEK PROVED THAT THEY WANTED THIS WIN A LITTLE MORE THAN THE REST OF THE FIELD. THIS TEAM VENTURED OUT IN 4 TO 7 FOOT WAVES TO REACH THEIR FISH AND WIN THE 2003 CHAMPIONSHIP. JOHN AND JEFF WEIGHED IN A FIVE FISH LIMIT THAT WEIGHED 19.68 POUNDS. IF THAT WASN'T ENOUGH, THIS TEAM ALSO WEIGHED IN THE LARGEST BASS OF THE TOURNAMENT. THEY HAD A SMALLMOUTH BASS THAT WEIGHED 5.33 POUNDS. JOHN AND JEFF ALSO SET THE LARGEST FIVE FISH LIMIT IN GOLD SERIES HISTORY AND THEY HAVE THE LARGEST BASS EVER WEIGHED IN AT A GOLD SERIES TOURNAMENT. THIS TOURNAMENT WAS WORTH $2,900.00 IN CASH AND PRIZES FOR THEIR WIN AND BIG BASS.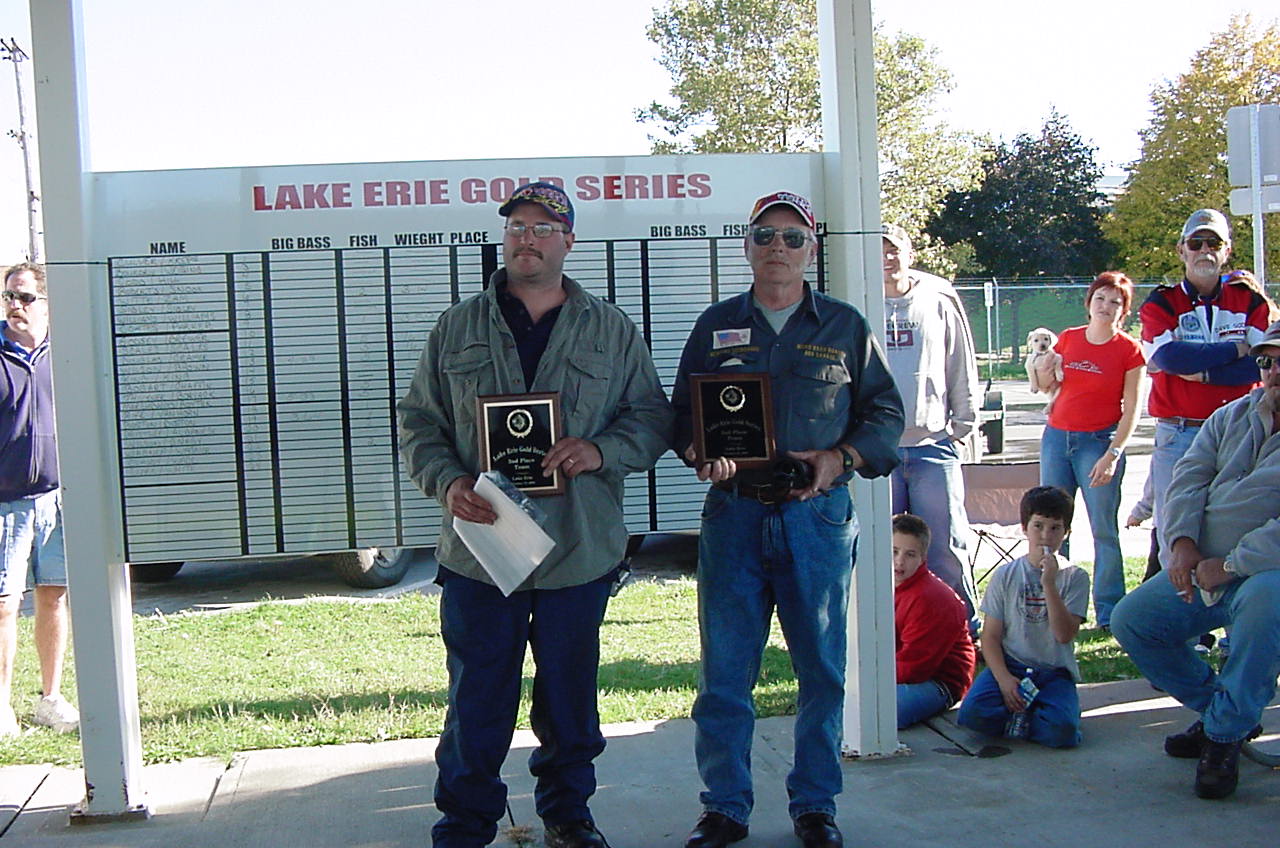 JAY BROWN AND BUFFORD WILSON, 2ND PLACE CHAMPIONSHIP TEAM
THE SECOND PLACE TEAM AT THE GOLD SERIES CHAMPIONSHIP WAS BUFFORD WILSON AND JAY BROWN, THEY HAD A FIVE FISH LIMIT THAT WEIGHED 17.91 POUNDS. THIS TEAM DIDN'T PRE FISH FOR THE TOURNAMENT, BUT THEY MADE IT COUNT WHEN CHAMPIONSHIP WAS ON THE LINE. BUFFORD AND JAY'S SECOND PLACE FINISH WAS WORTH $1,200.00 IN CASH AND PRIZES.
A VERY CLOSE THIRD PLACE TEAM WAS THE TEAM THAT WON THE LAST REGULAR SEASON GOLD SERIES TOURNAMENT, IT WAS THE TEAM OF GEORGE AND MELODY BOSTON. THEY HAD A FIVE FISH LIMIT THAT WEIGHED 17.19 POUNDS, LESS THAN 12OZ. BEHIND THE SECOND PLACE TEAM. GEORGE AND MELODY VENTURED ALL THE WAY TO CANADIAN WATER TO CATCH THEIR FISH. THEY COMMENTED IT TOOK 3 HOURS TO REACH THEIR FISHING SPOT, THAT IS DEDICATION. THIRD PLACE FINISH WAS WORTH $750.00 IN CASH AND PRIZES.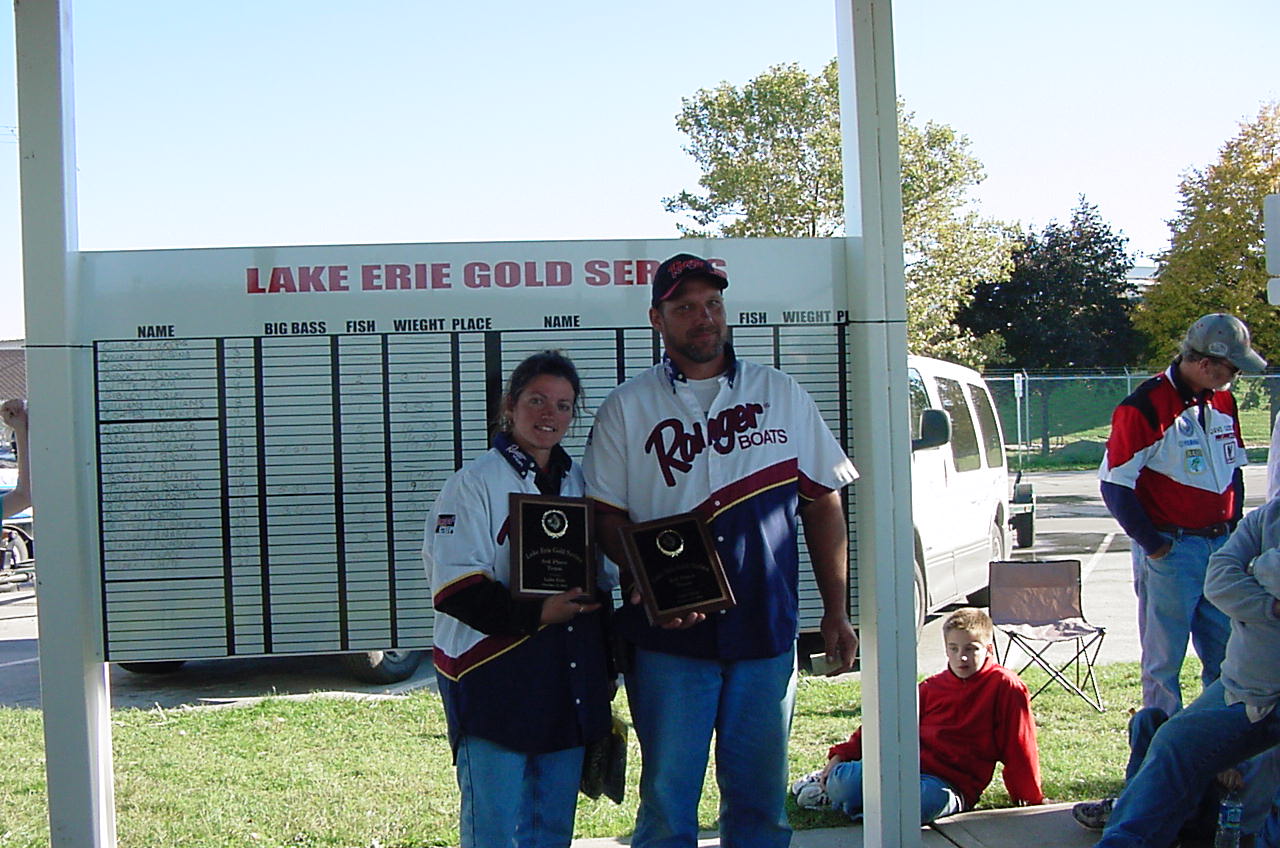 MELODY AND GEORGE BOSTON, 3RD PLACE CHAMPIONSHIP TEAM
IT WAS A REALLY TIGHT RACE FOR FOURTH PLACE, THE TEAM OF JOHN DOUGLAS AND DAN CRAMER EDGED OUT DAVID AND PAUL SCALES. JOHN AND DAN HAD A FIVE LIMIT THAT WEIGHED 16.09 POUNDS AND DAVID AND PAUL WEIGHED IN A LIMIT THAT WAS 16.03 POUNDS. DOUGLAS AND CRAMER EARNED $550.00 IN CASH AND PRIZES. DAVID AND PAUL SCALES CASHED THEIR FOURTH CHECK OUT OF FIVE TOURNAMENTS AT THE CHAMPIONSHIP. DAVID AND PAUL WON $270.00 IN CASH AND PRIZES.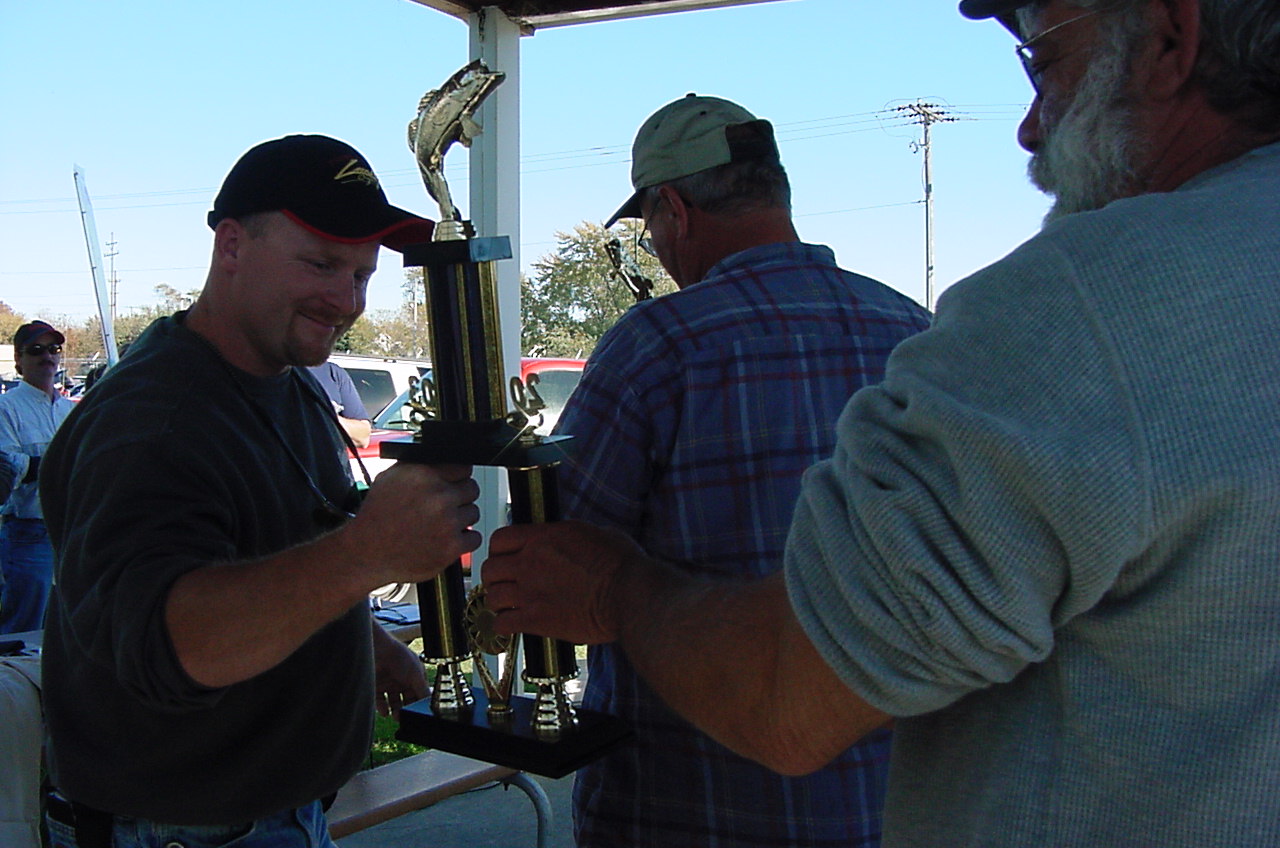 MARK SPENCER OF THE GOLD SERIES PASSES OUT THE PRIZES AT AWARDS PORTION OF THE CHAMPIONSHIP
MERCHANDISE WAS GIVEN OUT TO THE SIXTH THROUGH ELEVENTH PLACE TEAMS. ROUNDING OUT THE TOP TEN WAS, ROB THIVENER, HERB BOUYACK (11.47 LBS), CHAD AND HERB WAGNER (7.57 LBS.), SCOTT BRISTLEY AND JASON ALBANESE (5.95 LBS.), BRIAN COATES AND DICK PARKER (3.59 LBS.), AND SHANE WITTE AND TIM ZAM (3.14 LBS.).
THE LAKE ERIE GOLD SERIES WOULD LIKE TO THANK ALL THE ANGLERS AND SPONSORS THAT PARTICIPATED IN THE 2003 GOLD SERIES SEASON. WE WOULD ALSO LIKE TO ANNOUNCE THAT THE GOLD SERIES CIRCUIT HAD A PAYOUT THIS SEASON OF OVER $14,000.00 IN CASH AND PRIZES! THE GOLD SERIES IS A $60.00 PER TEAM TOURNAMENT AND THE GOLD SERIES PAID BACK 115% TO THE ANGLERS. WE LOOK FORWARD TO SEEING ALL OF YOU NEXT YEAR!!
BELOW IS THE FULL RESULTS OF THE LAKE ERIE GOLD SERIES 2003 CLASSIC CHAMPIONSHIP.
| | | | | | | |
| --- | --- | --- | --- | --- | --- | --- |
| LAKE ERIE GOLD SERIES: TOURNAMENT STANDINGS | | | | | | |
| | GOLD SERIES CHAMPIONSHIP OCTOBER 12, 2003 | | | | | |
| | | | | | | |
| TEAM | BOAT # | # FISH | # DEAD | WEIGHT | BIG BASS | POINTS |
| MARCHBANKS/ROYTEK | 17 | 5 | 0 | 19.68 | 5.33 | |
| WILSON/BROWN | 13 | 5 | 0 | 17.91 | 4.29 | |
| BOSTON/BOSTON | 19 | 5 | 0 | 17.19 | 3.64 | |
| DOUGLAS/CRAMER | 12 | 5 | 0 | 16.09 | | |
| SCALES/SCALES | 11 | 5 | 0 | 16.03 | | |
| THIVENER/BOUYACK | 16 | 5 | 0 | 11.47 | | |
| WAGNER/WAGNER | 22 | 2 | 0 | 7.57 | | |
| BRISTLEY/ALBANESE | 20 | 2 | 0 | 5.95 | | |
| COATES/PARKER | 9 | 1 | 0 | 3.59 | | |
| WITTE/ZAM | 6 | 2 | 0 | 3.14 | | |
| RIFE/VANHORN | 18 | 1 | 0 | 2 | | |
| CULVER/KREPS | 1 | 0 | 0 | 0 | | |
| BOURDRIE/WEISING | 3 | 0 | 0 | 0 | | |
| COBB/HILL | 4 | 0 | 0 | 0 | | |
| ROBERTS/SNOOK | 5 | 0 | 0 | 0 | | |
| SIBLEY/SIBLEY | 7 | 0 | 0 | 0 | | |
| WILLIAMS/WILLIAMS | 8 | 0 | 0 | 0 | | |
| GODSEY/BREWER | 10 | 0 | 0 | 0 | | |
| KING/KING | 14 | 0 | 0 | 0 | | |
| BOGART/CHAFFIN | 15 | 0 | 0 | 0 | | |
| WILSON/GNAGY | 21 | 0 | 0 | 0 | | |
| CLAUDY/WADE | 23 | 0 | 0 | 0 | | |
| CLARK/WHITE | 24 | 0 | 0 | 0 | | |