LAKE ERIE #1 TOURNAMENT WINNERS
BROWN AND MEIER TAKE THE OPENER AT THE GOLD SERIES

THE LAKE ERIE GOLD SERIES LLC KICKED OFF THE 2004 SEASON ON JUNE 27, 2004, ON LAKE ERIE. IT WAS A PERFECT DAY FOR A BASS TOURNAMENT ON ERIE, THE WINDS WERE 10 TO 15 MPH. OUT OF THE WEST, AND THE SKY WAS MOSTLY SUNNY. MOST OF THE TEAMS COMMENTED ON THE NICE DAY, BUT THE BOAT TRAFFIC MADE RUNNING A LONG DISTANCE A LITTLE DIFFICULT. WHEN YOU HAVE A NICE DAY ON LAKE ERIE THE PLEASURE BOATERS ARE OUT IN FULL FORCE.

THE PLEASURE BOATERS DIDN'T SEEM TO AFFECT THE PERFORMANCE OF THE TEAM OF JACK BROWN AND LES MEIER. THEY BROUGHT TO THE SCALES A WINNING WEIGHT OF 19.05 LBS. THE FIVE FISH THEY BROUGHT IN WERE ALL SMALLMOUTH BASS. THIS WAS THE FIRST TIME THIS TEAM FISHED A LAKE ERIE GOLD SERIES LLC TOURNAMENT, THEY SURE SHOWED HOW TO MAKE A GOOD IMPRESSION RIGHT OFF THE BAT. THIS TEAM TOOK HOME THE FIRST PLACE TROPHIES, GANDER MOUNTAIN SHIRTS, A PAIR OF NEW CASTAWAY FISHING RODS AND A CHECK FOR $875.00 DOLLARS. JACK AND LES CAUGHT THEIR FISH EAST OF THE TOURNAMENT WEIGH IN, AND USED TUBES TO CATCH THERE BASS.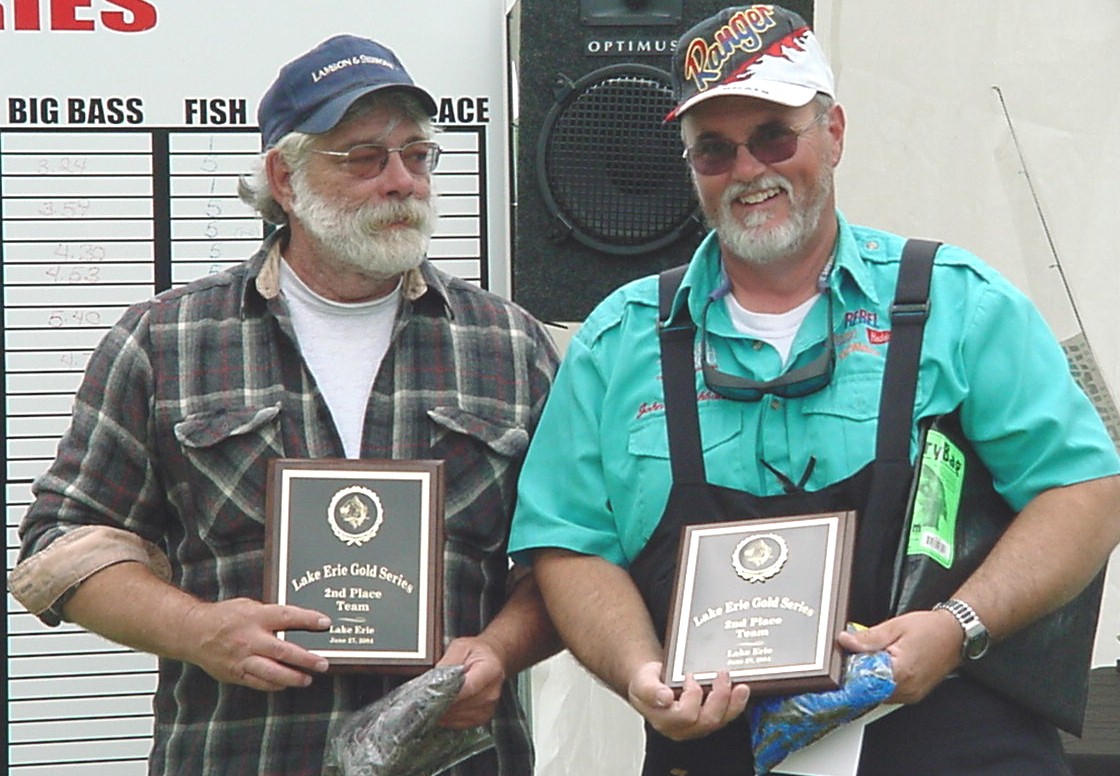 2nd PLACE TEAM
THE SECOND PLACE TEAM OF JOHN MARCHBANKS AND JEFF ROYTEK BROUGHT IN A FIVE FISH LIMIT THAT WEIGHED 18.69 POUNDS MAKING IT A VERY CLOSE FINISH BETWEEN THEM AND THE FIRST PLACE TEAM. JOHN AND JEFF TOOK HOME SECOND PLACE PLAQUES, 100CT. BAGS OF PHOENIX TUBES, AND A CHECK FOR $360.00 DOLLARS. THIS TEAM WAS THE 2003 LAKE ERIE GOLD SERIES LLC CLASSIC CHAMPIONS, THEY PICKED UP RIGHT WERE THEY LEFT OFF.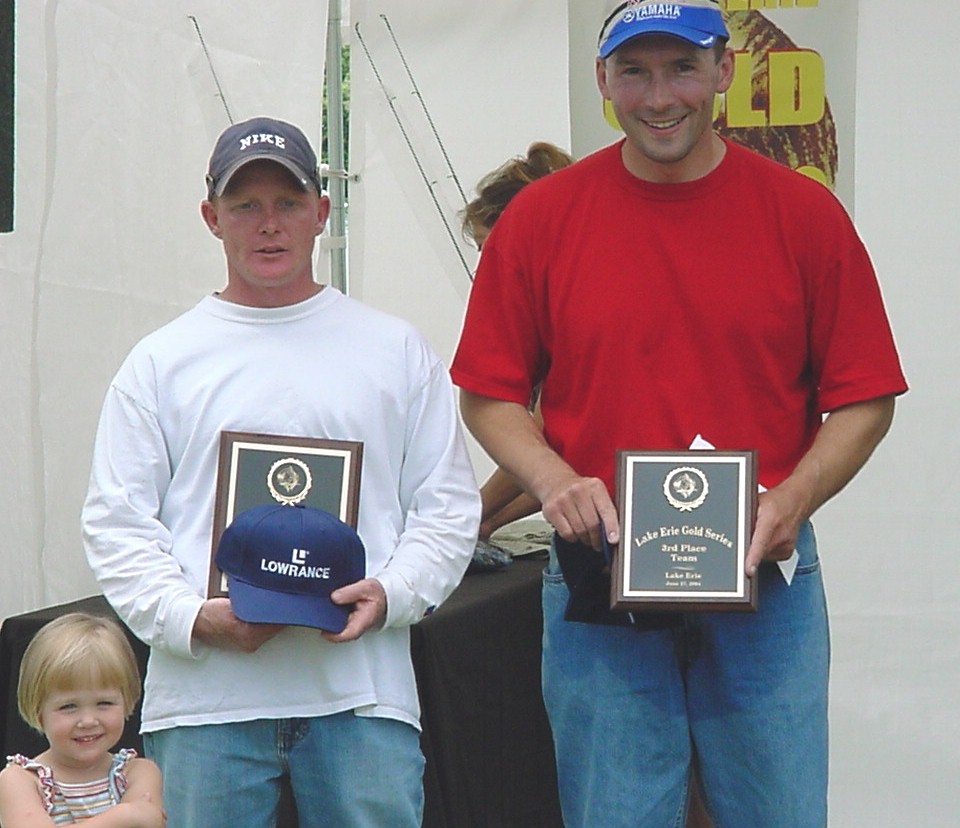 3rd PLACE TEAM AT THE GOLD
THE THIRD PLACE TEAM OF BRYAN COATES AND DICK PARKER ALSO KEPT THEIR MOMENTUM FROM LAST YEAR, THEY POSTED THE 2003 POINT CHAMPIONSHIP, AND STARTED THIS YEAR WITH A THIRD PLACE FINISH AT LAKE ERIE #1. THIS TEAM EARNED THIRD PLACE PLAQUES, LOWRANCE HATS, AND A CHECK FOR $225.00 DOLLARS.
THE BIG WINNERS AT THE LAKE ERIE GOLD SEREIS LLC #1
SCOTT BRISTLEY AND JASON ALBENESE NETTED A FOURTH PLACE FINISH WITH A FIVE FISH LIMIT OF 17.63 LBS., IT WAS WORTH $125.00 DOLLARS. JOHN DOUGLASS AND DAN CRAMER POSTED FIFTH PLACE WITH A LIMIT OF 17.12 LBS., FIFTH PAID $75.00 DOLLARS. THE FINAL SPOT THAT RECEIVED A CHECK WAS THE SIXTH PLACE TEAM OF RYAN RICH AND GARY VANOVER, THEIR FIVE FISH LIMIT WEIGHED 17.01 LBS.
BIG BASS WINNER AT LAKE ERIE #1
THE BIG BASS OF THE TOURNAMENT WAS BROUGHT IN BY THE TEAM OF SHAWN RINKER AND JIM PARKER, THEIR BIG SMALLMOUTH BASS TIPPED THE SCALES AT 5.40 LBS., IT WAS GOOD ENOUGH TO SET A NEW RECORD FOR THE LARGEST BASS EVER WEIGHED IN AT A LAKE ERIE GOLD SERIES LLC TOURNAMENT. THE BIG BASS EARNED THE TEAM A CHECK FOR $360.00 DOLLARS, A PLAQUE, AND A GANDER MOUNTAIN SHIRT AND HAT.

THE LAKE ERIE GOLD SERIES LLC WOULD LIKE TO THANK ALL THE ANGLERS THAT PARTICIPATED IN THIS TOURNAMENT, WE ARE ALWAYS GLAD TO SEE ALL THE ANGLERS TURN OUT FOR OUR TOURNAMENTS. WE WOULD ALSO LIKE TO THANK ALL OF THE GENEROUS SPONSORS ( GANDER MOUNTAIN, CASTAWAY RODS, VIC'S SPORTS CENTER, PHOENIX LURES, TIGHT LINE LURES, SPENCER CONSTRUCTION, MAUMEE BAIT AND TACKLE, SANDUSKY CITY BOAT LAUNCH, LOWRANCE, AND OHIO SIDING AND GUTTER ) THAT MAKE IT POSSIBLE TO HOLD LAKE ERIE GOLD SERIES LLC TOURNAMENTS.

NEXT UP FOR THE LAKE ERIE GOLD SERIES LLC IS LAKE ERIE #2 ON JULY 11, 2004. THE TOURNAMENT WILL BLAST OFF AT SAFE LIGHT AND WILL RUN UNTIL 3:30 IN THE AFTERNOON. ALL ANGLERS ARE WELCOME TO COME JOIN THE LAKE ERIE GOLD SERIES LLC AND JOIN IN ON ALL THE FUN, IT IS NOT TOO LATE TO JOIN!!

BELOW ARE THE RESULTS OF HOW THE REST OF THE GOLD SERIES TEAMS FINISHED UP.