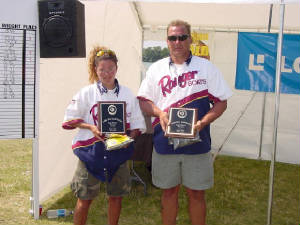 2ND PLACE TEAM, MELODY AND GEORGE BOSTON
LETS NOT FORGET THE GREAT EFFORT OF THE SECOND PLACE TEAM OF GEORGE AND MELODY BOSTON, THEY ALMOST RECORDED THEIR SECOND WIN WITH THE GOLD SERIES. THEIR FIVE FISH LIMIT OF 20.02 POUNDS HOOKED THEM A SECOND PLACE FINISH AND A NICE PAYDAY. THE BOSTONS RECIEVED A CHECK FOR $350.00, SECOND PLACE PLAQUES, 2 100CT. BAGS OF PHEONIX TUBES, AND SOME OF THE NEW PHEONIX DROP SHOT WORMS.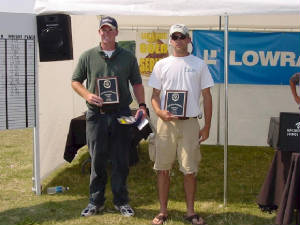 THIRD PLACE HONORS WENT TO THE TEAM OF MICHAEL SIMONTON AND JOHN KLEINOEDER, THEY BROUGHT A FIVE FISH LIMIT TO THE SCALES WEIGHING 19.18 POUNDS. THE TEAM COMMENTED THAT THEY REALLY HAD TO DO SOME PRECISE BOAT POSITIONING TO CATCH THEIR FISH. THEY ALSO SAID THAT USING A 1/8OZ. WEIGHT IN THEIR TUBES MADE A BIG DIFFERENCE IN THEIR SUCCESS. MICHAEL AND JOHN'S THIRD PLACE FINISH EARNED THEM A CHECK FOR $250.00, THIRD PLACE PLAQUES, AND A PAIR OF LOWRANCE HATS. THIS WAS ONLY THE SECOND TOURNAMENT THAT THIS TEAM HAS FISHED WITH THE GOLD SERIES, A VERY NICE START.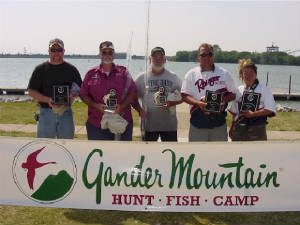 ALL THE BIG WINNERS AT GOLD SERIES #2
THE OTHER TEAMS THAT DID REALLY WELL ON THIS HOT JULY GOLD SERIES EVENT WAS THE FORTH PLACE TEAM OF BRIAN AND JOHN CLARK, THEY HAD A FIVE FISH LIMIT OF 19.08 POUNDS AND A CHECK FOR $150.00, FIFTH PLACE TEAM BRIAN COATES AND DICK PARKER; 18.79 POUNDS $100.00, SIXTH PLACE BRENT BOUDRIG AND STEVE WEISING; 17.97 POUNDS $75.00. AND SEVENTH PLACE GRANT AND GREGG HATFIELD; 17.95 POUNDS $50.00 RESPECTIVELY.
LAST BUT NOT LEAST WAS THE BIG BASS WINNERS OF THIS EVENT, THE TEAM OF RON SHEPERD AND TONY SEALS BROUGHT THE BIG FISH OF THE DAY IN. THE SMALLMOUTH BASS WEIGHED IN AT 4.96 POUNDS, WICH WAS GOOD ENOUGH TO TAKE HOME A CHECK FOR $400.00, A BIG BASS PLAQUE, AND A 100CT. BAG OF PHEONIX TUBES, A GREAT PAYDAY FOR ONE GREAT BITE!
NEXT UP FOR THE LAKE ERIE GOLD SERIES LLC IS LAKE ERIE #3, THE THIRD QUALIFYING EVENT OF THE 2004 SEASON. THIS TOURNAMENT WILL BE AUGUST 8, 2004, IT WILL KICK OFF AT SAFE LIGHT AND GO UNTIL 3:30 PM.
THE GOLD SERIES WOULD ALSO LIKE TO REMIND YOU THAT THE GOLD SERIES WILL BE AIRING ON BUCKEYE OUTDOORS.TV ON JULY 31, 2004, THE SHOW TIMES ARE AT 10:00 AM. AND 10:00 PM. ON TIME WARNER CABLE ON CHANNEL 25.
AS ALWAYS THE LAKE ERIE GOLD SERIES LLC WOULD LIKE TO THANK ALL OF IT'S FINE SPONSORS AND THE ANGLERS IN THEIR PARTICIPATION IN THE GOLD SERIES. ALSO THE GOLD SERIES ASKS TO PLEASE SUPPORT ALL THE SPONSORS OF THE GOLD SERIES, ALL OF WHICH HAVE QUALITY!! PRODUCTS.
BELOW ARE THE RESULTS OF HOW THE REST OF THE TEAMS FINISHED UP AT THE LAKE ERIE GOLD SERIES LLC LAKE ERIE #2 TOURNAMENT.
| | | | | | | |
| --- | --- | --- | --- | --- | --- | --- |
| LAKE ERIE GOLD SERIES LLC: TOURNAMENT STANDINGS | | | | | | |
| | LAKE ERIE JULY 11, 2004 LAKE ERIE #2 | | | | | |
| | | | | | | |
| TEAM | BOAT # | # FISH | # DEAD | WEIGHT | BIG BASS | POINTS |
| MARCHBANKS/ROYTEK | 37 | 5 | 1 | 20.96 | | 150 |
| BOSTON/BOSTON | 30 | 5 | 1 | 20.02 | 4.82 | 149 |
| SIMONTON/KLEINOEDER | 24 | 5 | 0 | 19.18 | | 148 |
| CLARK/CLARK | 28 | 5 | 0 | 19.08 | | 147 |
| *COATES/PARKER | 13 | 5 | 0 | 18.79 | 4.39 | 146 |
| *BOUDRIG/WEISING | 4 | 5 | 0 | 17.97 | 4.32 | 145 |
| HATFIELD/HATFIELD | 21 | 5 | 1 | 17.95 | 4.23 | 144 |
| *SHEPHERD/SEALS | 11 | 5 | 0 | 17.93 | 4.96 | 143 |
| CLAUDY/WADE | 41 | 5 | 0 | 16.74 | 4.77 | 142 |
| SCALES/SCALES | 40 | 5 | 1 | 15.95 | | 141 |
| WAGNER/WAGNER | 31 | 5 | 0 | 15.9 | 4.03 | 140 |
| GRAHAM/MASON | 32 | 5 | 0 | 15.74 | | 139 |
| *THIVENER/GRAY | 7 | 5 | 0 | 15.71 | | 138 |
| GODSEY/BREWER | 12 | 5 | 0 | 15.64 | | 137 |
| CORDLE/RAY | 22 | 5 | 0 | 15.46 | | 136 |
| *BRISTLEY/ALBANESE | 10 | 5 | 0 | 15.04 | | 135 |
| *RIFE/VANHORN | 1 | 5 | 1 | 14.99 | 3.93 | 134 |
| BOGART/CHAFFIN | 29 | 5 | 1 | 14.72 | 4.74 | 133 |
| *SIBLEY/SIBLEY | 17 | 5 | 0 | 14.16 | | 132 |
| ROZE/GERARD | 25 | 5 | 0 | 14.07 | | 131 |
| *BROWN/MEIER | 8 | 5 | 0 | 13.24 | | 130 |
| *PARKER/PARKER | 14 | 5 | 0 | 13.2 | | 129 |
| *SWYGART/BAUMLEIN | 9 | 5 | 0 | 13.15 | 4.44 | 128 |
| KING/KING | 33 | 5 | 0 | 12.71 | | 127 |
| HELLINGER/GEE | 36 | 5 | 0 | 12.28 | 3.93 | 126 |
| RICH/VANOVER | 34 | 5 | 2 | 11.88 | | 125 |
| *ROBERTS/HILL | 5 | 4 | 0 | 11.66 | 4.87 | 124 |
| LUTTRELL/SHAVER | 39 | 3 | 1 | 10.51 | 4.35 | 123 |
| DALZELL/DAVIDSON | 35 | 5 | 2 | 10.1 | | 122 |
| *BOGGS/SHARP | 3 | 3 | 0 | 9.44 | 4.16 | 121 |
| BYUS/BADGER | 19 | 4 | 0 | 9.44 | | 121 |
| DIDANTO/WARGO | 38 | 4 | 2 | 9.31 | | 119 |
| *SMIALOWSKI/DANDA | 6 | 4 | 0 | 9.11 | | 118 |
| *STEVENS/STEVENS | 18 | 4 | 0 | 8.84 | | 117 |
| *RINKER/PARKER | 15 | 2 | 0 | 5.49 | | 116 |
| *GILLAND/WALKER | 2 | 1 | 0 | 3.23 | | 115 |
| *BLACK/BLACK | 16 | 1 | 0 | 2.56 | | 114 |
| WILSON/WILSON | 26 | 1 | 0 | 1.8 | | 113 |
| DOUGLASS/CRAMER | 20 | 0 | 0 | 0 | | 0 |
| BYUS/SHOEMAKER | 23 | 0 | 0 | 0 | | 0 |
| FLOWERS/HOWELL | 27 | 0 | 0 | 0 | | 0 |
JULY 11, 2004 PAYOUTS
$870.00 JOHN MARCHBANKS/JEFF ROYTEK
$350.00 GEORGE AND MELODY BOSTON
$250.00 MICHAEL SIMONTON/JOHN KLEINOEDER
$150.00 BRIAN AND JOHN CLARK
$100.00 BRIAN COATES/DICK PARKER
$75.00 BRENT BOUDRIG/STEVE WEISING
$50.00 GRANT AND GREGG HATFIELD
$400.00 RON SHEPERD/TONY SEALS (BIG BASS)